Double sided Adhesive Tapes
Double sided sticky foam sheets
A full range of double-sided adhesive tapes and foam sheets are available in rolls, sheets, die-cut or sheared, in various thicknesses and dimensions for workers and decorators who need to make the most of precision and security. Strength and durability can be provided by these flexible products in rolls and sheets of various thickness and sizes. Available either in industrial or household quantities, these cutting edge items are available for everyone who wants the best in precision and security.
Production examples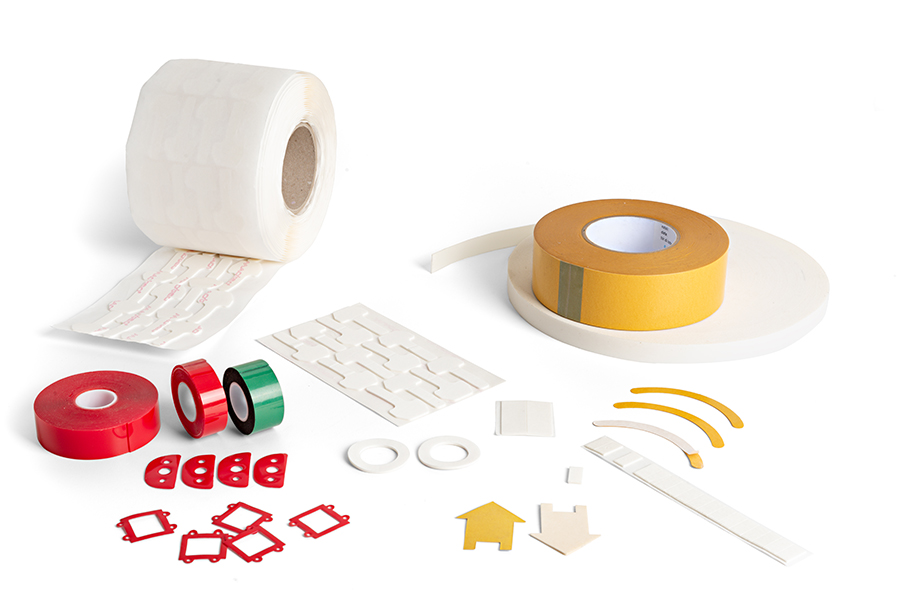 Request information
Double-sided Adhesive Tapes for work
These industrial standard items can be ideal for the busy company or individual involved in engineering or precision decoration. As a means of insulation, these products are unbeatable. For example, TNT IT is one of the strongest and most adaptable taping product. It allows a covering of a thick adhesive to be applied to the roughest of surfaces, including wool, sponge and plastics. TNT Nitto is a similarly durable item, with the added feature of high heat resistance and pressure sensitivity. Plumbers may well have need of water-resistant tape. Mactac Foam is a water resistant double sided tape and can be ideal for work where water insulation is required.
Read more
Double-sided Adhesive Tapes at home
When decorating at home, it is often necessary to securely fix items to the wall. Pictures, photographs and smaller items can be easily affixed with Polypropilene, a highly useful material for all surfaces. This tape is highly sticky and can be hand torn for maximum convenience. The up to date acrylic adhesive of Transfer is another example of a flexible tape suitable for household tasks. This tape can be use in a general way on all surfaces, even ones which carry a high temperature.
Select the material that interests you to get more information. We also offer custom solutions.
Close